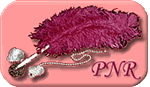 Hey everyone,
PNR has reviewed my paranormal historical, The Witch and the Wolf!
Here is a snippet of the review!
Ms. Matthews has written a perfect blend of history, danger, mystery, and the magic of true love. Christopher and Arabella butt heads at every turn. Their lively banter will make you chuckle as you wonder who will win the battle of wits. They make a perfect match. Both are brave, loyal, and passionate. You'll want these two to find a way to conquer the one who threatens their future so they may find the happiness they both deserve.

Reviewed by: Karen Michelle Nutt
And here is the link to the full review, please check it out!

Have a great Sunday!
~Marly